Channeling Bashar, Essassani Bashar: Your State of Being Bashar: Higher Vibrations Bashar: Parallel Universes Bashar and Abductions Bashar, Leslie Flint and Atlantis
Bashar and the others who come through the channel Darryl Anka give a very definite curriculum, perfectly organized in its presentation and delivery. Bashar gives many seminars and retreats every year and his work is becoming increasingly popular.
The subject he talks about most is the nature of reality and how to best relate to it for maximum success. One of the main principles of reality he gives is regarding one's internal state of being and how the state of being is vastly more important than outside situations or circumstances. Bashar would state over and over in one of his talks, "It is your state of being that matters, not the situation." Meaning that we create our reality by how we feel and what we actually believe to be reality.
The reality that we endure or enjoy directly reflects like a mirror one's state of consciousness. No matter how hard one may work to make life joyful or successful, one may never make it until one's state of consciousness is also serene, successful, and joyous. There are four very important laws that are always present in every dimension, every situation, and throughout all time: 1) We exist (can't do anything about that); 2) The one is all and the all are one (the universe is holographic); 3) What we put out is what we get back ("Whatsoever a man soweth, that shall he also reap"–Galatians 6:7-10); and 4) Change is the only constant, except for the first three laws! What he says regarding time is that every second is simply just another aspect of the Eternal Moment or Eternal Now we are simply looking at it from a limited viewpoint. From a higher perspective, viewpoint or higher state of consciousness, all times throughout history become accessible and appear as one great moment.
Much of his knowledge reflects what one can find in movies such as "The Secret" and "What the Bleep Do We Know?" yet on a deeper and expanded level of conviction, explanation and demonstration. He instructs everyone to go beyond faith into absolute knowing because knowledge is far more powerful than just faith alone. His concepts seem to always be consistent, vast and scientifically correct. He has an absolute command of the meanings of all the words of knowledge he gives out. Considering Bashar's lightning fast and flawless wit, he could win at any debate.
Even an ordinary word such as experience in the Essassani language has a very deep meaning. The Essassani word for experience is illi-akar. Illi means mirror or anything that reflects back ideas, feelings, thoughts, and images. Akar means consciousness. What better concept or definition of experience is there than for it to be considered as a mirror of consciousness? One's state of being or condition of consciousness is reflected as the sort of reality or life that one creates is apparent in the meaning of this word, illi-akar, mirror of consciousness.
What one experiences is dictated by the definitions (belief systems) in one's consciousness. Like a hologram, the entire universe reflects to the observer some aspect of one's consciousness. Good thoughts, loving vibrations affect the behavior of particles around oneself in a positive (mathematically harmonious) way, while negative emotions tend to disrupt the harmony of surrounding particles tending to attract more negative outcomes than positive.
He also finds deep meaning in the words from our language. In the word, imagination he sees I, magi, and nation or nation of magicians! He wishes to help us understand how powerful we really are in our imagination. The potentials of imagination are huge and Bashar wants to teach us exactly how imagination can be used for creating wonderful changes. Another example is YOU-niverse; everything is you and there really is nothing outside of all that which is you which is everywhere and dwells in every living thing, especially in all the friends, family, strangers and acquaintances one comes in contact with. Whatever conflicts one has in life can only be with one's self, because absolutely no other reality, force, or aspect exists outside of you.
There is only you and all that you experience is nothing but reflections of all that you have put out into the universe. He says that any negativity or feelings of distress are caused by anything that we believe to be true that clashes with our own true nature. If we carry within ourselves any definitions (beliefs) that are not in harmony with the truth, we remain frustrated, fearful and/or unhappy.
He says finding real happiness or wholeness requires redefining all definitions or beliefs of reality that we don't like into definitions much more in alignment with the truth of our true nature which is everlasting harmony, love, understanding, joy and bliss (wholeness).
More information, illustrations and movies related to the above article can be found here: Revelations of Bashar

Awesome 3D Sound ~~~~ Meditate Deeper ~~~~ Integrate Your Mind ~~~~ Travel to Distant Places
Affiliate Ad: Expand your consciousness with utterly breathtaking sound and music effects causing a massive inter-neural integration brain synchronization transformation. SYCTUITION WAVE is an awesome and totally unique meditation tool. It is definitely a way to reach your full potential while transporting you into different spaces. Listen to the free, soothing sounds. Experience an effortless flow of miracles. Synctuition is so helpful and so innovative that there is also a great financial opportunity, if you are interested in that. This could be an easy way of connecting to the best "you" ever. Enjoy 1 to 3 free full-length soundtracks just for registering. Go here for more information.

"Seven Steps to Wholeness"
Enjoy Absolutely Amazing Bliss and Joy! Learn Breatharianism! Enjoy Unlimited Energy! Rejuvenate Your Cells!
Nothing like this manual has ever been written before. Learn all about a unique spiritual diet and a way of mineral water fasting for pranic nourishment and transmutation that can really boost your spiritual awareness into realms of awesome bliss and love!
---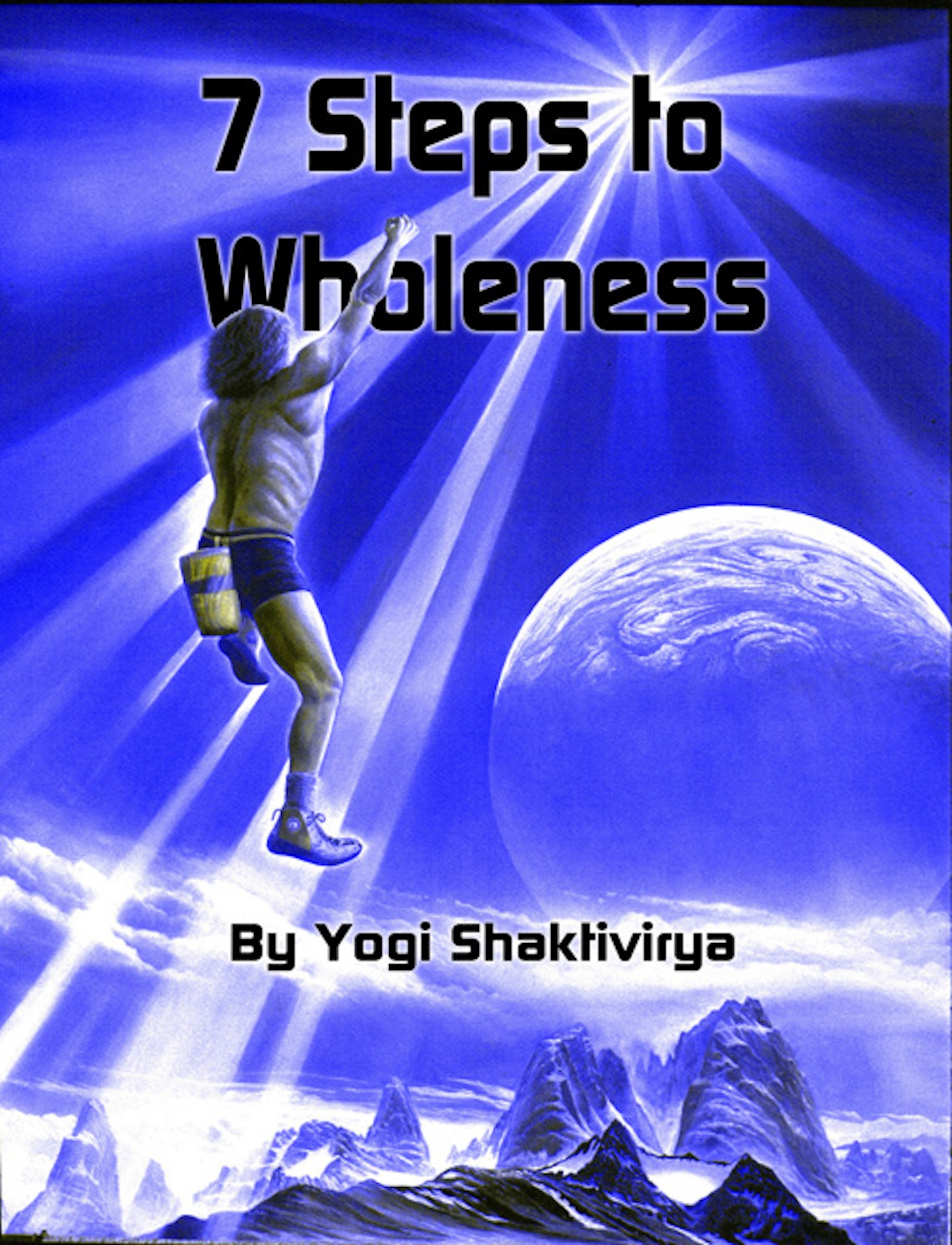 ---
WHY NOT BASE YOUR ENTIRE DIET ONLY ON HEALING RAW FRUITS AND VEGETABLES?
I discovered a perfected, life-changing, utterly unique, oval-vegan diet regimen and lifestyle that goes way beyond conventional practice. If it is carefully understood and followed, this wholesome lifestyle can help you enjoy unprecedented levels of health, healing and well-being at every moment. I stumbled across a diet and way of life so pure and so effective at physical, mental and spiritual rejuvenation, it gives me tremendous bliss and tremendous satisfaction in every aspect of my life. The words of this sacred book will guide you up toward ecstatic levels of health and well-being far beyond conventional diet wisdom that not even a single physician, dietitian, or spiritual guru even knows about, or at least not yet.
There is so much to learn however. I will describe all the phases, stages and difficulties to avoid while attempting to reach such high levels of perfected eating for the lasting enjoyment of wholeness that you would never, ever want to return to the old ways of eating again. One must first learn, understand and overcome many of the hazardous food and drug addictions plaguing our society and gradually replace all one's deleterious habits and toxic substances with only wholesome, organic fruits and vegetables completely free of all cell-damaging gluten, lectins and other miscreant substances. Organic, raw fruits, herbs, and vegetables are indeed the greatest healers of all time. Why not base a diet entirely on them?
Did you know that nature only intended humans to eat 100% raw food? Are you aware that even some of the most natural seed-based foods such as nuts, seed, whole grains, and legumes all contain potentially inflammatory substances such as lectins and gluten resulting in the eventual development of all manner of chronic degenerative diseases such as depression, anxiety, fatigue, diabetes, arthritis, heart failure and cancer? And if any so-called food needs to be cooked to make it palatable and/or less toxic, it should not even be considered as "food" in the first place! Multiple diseases of all kinds and years of incredible suffering can be avoided just by knowing this truth.
One may think that after eliminating these foods there would be none or far too few foods left to choose from. This assumption is far from true as there are countless varieties of super foods, herbs, fruits and vegetables to choose from that contain complete protein and are fully nourishing for the body, especially if you include raw, organic, pasture-raised eggs, algae, and edible fungi along with the vast variety of organic fruits, herbs and vegetables now being grown throughout the world. Learn which vegetables can be used to directly replace all toxic high-gluten whole grains and deadly high-lectin legumes and enjoy the amazing health benefits of living on a completely seed-free, 100% raw food diet supplemented with several tantalizing and delicious superfoods such as chlorella, bee pollen, pine pollen, and pasture raised eggs. Discover which fruit is a perfect replacement for all nuts and seed.
Just as vital as making sure only the correct foods go into your mouth, you also need to allow only the most constructive and helpful thoughts of prosperity and goodness to enter your sacred heart, mind and spirit. Once you have mastered your diet, one also needs to understand and master one's relationship with vital, subtle energy and learn how to use that energy, correct eating, plenty of mineral water and herbs to blissfully transmute the sexual energy which would uplift you into an even higher state of fulfillment and well-being far more valuable than anything you ever experienced before.
You will learn how this diet and lifestyle of wholeness can lead you toward living more and more on the prana from nature rather than calories from solid foods. You will find that you will feel gradually less hungry and more blissfully energetic, opening up new avenues of inner experience through ecstatic dreams and deep meditation into the realms of samadhi, astral travel and the afterlife. You will find out that there is actually a wonderful life after death and that God (unconditional love and everlasting joy) can be realized and discovered as your true nature within your self.
The vital "Seven Steps to Wholeness" include:
Step 1 – Remove all Seeds and Add Plenty of Water Between Meals; Step 2 – Remove all Dairy and Add Living Acidophilus Liquids; Step 3 – Remove All Cooked Foods and Add Full-Spectrum Formulas; Step 4 – Become Aware of Vital Pranic Energy Nourishment; Step 5 – Conserve and Transmute Your Sexual Desires into Bliss; Step 6 – Align with Your True Nature and Know You Are Eternal; Step 7 – Meditation, Samadhi, Astral and Cosmic Consciousness
My 9th Edition of "Seven Steps to Wholeness" is Now Available on Kindle
GO HERE TO PURCHASE EBOOK: Seven Steps to Wholeness
Please go here for more fascinating information regarding this most amazing way to great joy, bliss, divine love and wholeness!
---
THANKS FOR YOUR INTEREST IN MY E-BOOK!
You can e-mail me at shaktivirya@scienceofwholeness.com
for any questions before and after purchasing!