Anxiety Disorder – How I Cope With it Now – Part 2
I suffered severely from anxiety and depression for more than 30 years. It got worse during high school, and even worse later on, as if it were deliberately trying to make my life as miserable as possible. This is my story of great emotional pain, long years of isolation, misery and utter hopelessness and how I gradually found my way out of this dismal tunnel of despair and into the light of wisdom, joy and great relief.
Along with all the problems one usually gets when growing up, the symptoms of panic disorder and not at first knowing what they were, devastated my days at school and ruined my concentration with schoolwork. I would come home completely exhausted, frustrated and unable to concentrate on anything, especially homework. I had a very limited social life and no girlfriends. I suffered for what seemed like an eternity from social anxiety, loneliness, severe acne, mysterious weight loss, and crippling depression.I had an extreme dislike of most kinds of team sports and had a really hard time trying to fit in anywhere. From grade school to high school, I suffered much hazing from others and much rejection and "unrequited love" from members of the opposite sex I felt attracted to, resulting in a vicious cycle of continued social anxiety, resentment of other's popularity and success, and my overwhelming sense of rejection, isolation and alienation.
The suffering continued through college (where I studied nutrition, psychology, astronomy and especially art) and into my work years. I could only find jobs that were simple and stress free such as gardening, painting and handyman type projects. I finally had a job taking care of an office building with a garden and fountain that required much continuous maintenance and support. I am still working there today.
Throughout the '70s, '80s and '90s, I tried in vain to find the cause of my suffering through religions, doctors, psychiatrists, etc. only to be severely disappointed by their "its all in your head" diagnosis! It seemed FAR worse than just "anxiety neurosis" or the later diagnosis of "anxiety disorder"! I couldn't believe it. I thought I either had to have heart disease, kidney failure, cancer, strokes, tumors, diabetes, lead poisoning, mercury, DDT, or any combination of the above! You name it, It felt like I had it! But, over and over all my tests revealed nothing substantial or really significant, no toxins, no poisons, nothing that made sense or was helpful.
I tried counseling, Christianity, Christian and Religious science, eastern religions, meditation, yoga, and positive thinking for many years, but still my problems only got worse. I started feeling more and more like a nutcase and a good candidate for insanity as more and more of my family and friends gave me the "its all in your head so snap out of it" insult-to-injury "treatment." Nearly all of my acquaintances had no understanding or sympathy for my chronic problems so they left me alone. I spent most of my time very much alone and isolated. Being with people scared me so much I often had to run to an isolated, quiet room or area where no people were around. I could not fill out any forms or sign my name on my check or credit card receipt in public because I would shake too much. Some of my signatures looked absolutely bizarre and any forms filled out illegible. I went through hell just trying to fill out a simple job application.
Conversations would end abruptly because I kept losing track of what I was going to say next and would have trouble remembering what the other person said. I would have to stop in mid sentence, because I could not complete it, resulting in incredible embarrassment, another anxiety attack, and feeling like an idiot. This mental block would nearly always happen at the worst possible or critical moment such as when having to explain a very serious problem, during an emergency confrontation, or speaking in front of a group of people, resulting in an incredibly severe fear of public speaking and socializing of any kind. Whatever it was, when I needed it the most, I would have it the least!
I also had many physical symptoms too that drove me crazy. My heart kept skipping beats, and/or speeding up and keeping awake all night (especially if on ANY sort of medication), making me think I was having a heart attack. I would often have horrible nightmares then wake up terrified in a cold sweat and total confusion. I would not be able to sleep again until five in the morning. Then I would have to sleep all day to compensate for the nightly insomnia and to cope with the devastating stress, vertigo, and depression. I also felt a great sense of unworthiness, tiredness and fatigue that drove me nuts whenever I needed to get anything done.
Expenses would accumulate, and I could never get ahead financially, no matter how hard I fought the overwhelming urge to sleep all the time, especially after eating. Greatly misunderstood, I was considered by others as very lazy, under the influence (even though I NEVER took anything), and a poor achiever or so much "dead wood" as I was unable to support myself. Imagine all this happening while growing up and trying to find my own place in the world!!

After a few massive anxiety attacks In 1982, I became almost permanently agoraphobic. In order to avoid terrible panic, I always had to stay within my local neighborhood or within the city limits. This problem was a disaster for dating, and so had to remain lonely. As I grew older, I became more and more angry and cynical about life. I would often get so frustrated that I would lose my temper and break things. I must have thought of a hundred different ways to end my life, so desperate was I to stop the severe emotional pain, but was too afraid to try anything.

My life felt like an internal concentration camp or hell on earth. My severe weight loss trying to avoid foods I was "allergic" too even made me look like a concentration camp victim. Nothing I ate would put on weight anyway, it would just go right on through, causing severe gas, bloating and diarrhea. Nothing in my life went right, not even my digestion!!!

Throughout this time (early 80's to early 90's) I tried various medications such as imipramine, xanax, tranxine, and buspar. They were expensive and only gave me very disruptive and embarrassing side-effects with no benefits. In fact, It seemed every medication I tried only made my symptoms (depression, panic attacks, spaciness, memory lapses, vertigo, fatigue, and frightening heart symptoms) much worse, especially the imipramine, which I had to endure two separate trials for 6 weeks. I eventually became so frustrated and upset with medications, I PERMANENTLY stopped taking them, especially with having to wait for so many weeks for them to "work" only to find they have the opposite effect! This is NOT to discourage others who are trying medications, especially now that there are so many more available that act faster and have fewer side-effects.

Forced in my situation to try something different, I looked into such things as diet, herbs, and alternative medicine. I tried experimenting with diet for many years, but with only limited results that sometimes even seemed to backfire like the drugs did. However, the results were enough to convince me to look even further into the subject of nutritional therapy and to verify if such a thing did in fact exist. By the late 80's I had finally developed an "Atkins" type diet high in raw fruit/vegetable juices, cooked green vegetables, and complete proteins, such as fish, chicken and organ meats plus many herbal and vitamin supplements. This new diet actually seemed to keep my depression and anxiety under a certain amount of (intermittent) control! As I continued throughout the '90s to "tinker" around with my diet, because I knew there had to be something to it, I found even more foods that helped and was able to identify foods that did not. No longer was the notion that one could treat emotional problems with just diet a hopeful fantasy! It was real! This bit of encouragement spurred me on with even greater thoroughness, fanaticism and great zeal.

As time went on, the diets I found myself on where more and more vegetarian, with continuing improvement, but there was still much room for more improvement. I started drinking loads of water between meals instead of snacking, which resulted in even more encouraging improvement. I realized snacking was in itself a cause of many food sensitivities, dental problems, and bad mental, emotional and physical reactions that would not otherwise take place if all foods eaten in a day were grouped together in one wholesome, complete meal, while the rest of the day is spent detoxifying on drinking water.

In 1994, I wrote a book about an entire yogic system and lifestyle that's supposed to lead to bliss, enlightenment and wholeness. Naturally, I become extremely obsessed with my health and what I ate and how I ate for many, many years to come. I would often spend all day in libraries, behind books, etc. (and later the internet) doing intense research on diet, nutrition, and neurochemistry. People avoided me because diet was all I talked about and found it very difficult to get away from the subject. Careful and limited, scientifically guided eating was my saviour and only hope for existence without fear and crippling depression.

At the end of April, in the year 2000, I transitioned over to an "oval-vegetarian"100% raw food diet (including raw eggs, bee pollen, nuts, seed and spiralina, fruits, greens, vegetables, herbs, etc.) with even more improvement in my overall health and mental well-being. I have ever since disliked the practice of cooking (destroying) good food, and eating meat & pasteurized/homogenized dairy products. I still felt anxious and agoraphobic, but everything seemed easier to manage and had much better luck with meditation and yoga. There is also a very significant "spiritual awakening" side to my story, which can be found at the beginning of my book now online.

In January of 2002, I decided to start a website which would serve as an information and research center to encourage the development and exchange of new ideas related to overcoming all the frustrations, diseases and other hazards of our human condition, and to overcoming all limitations and all forms of suffering. I am interested in alternative, natural, effective, wholesome ways to overcome anxiety, depression, the aging process and many other diseases. I have dedicated my life to the elimination of fear, depression, ignorance, suffering, loneliness, pollution, overpopulation, etc. and to the study of certain controversial subjects such as: life after death, astral projection, breatharianism and many more. I am hoping it will be a "light house" to many in search of or in need of help.

Please go here: Natural Anxiety Remedies for the complete website on anxiety and depression.
"Seven Steps to Wholeness"
Enjoy Absolutely Amazing Bliss and Joy! Learn Sexual Transmutation! Enjoy Unlimited Energy! Rejuvenate Your Cells!
Nothing like this manual has ever been written before. Learn all about a unique spiritual diet and a way of mineral water fasting for pranic nourishment and transmutation that can really boost your spiritual awareness into realms of awesome bliss and love!
---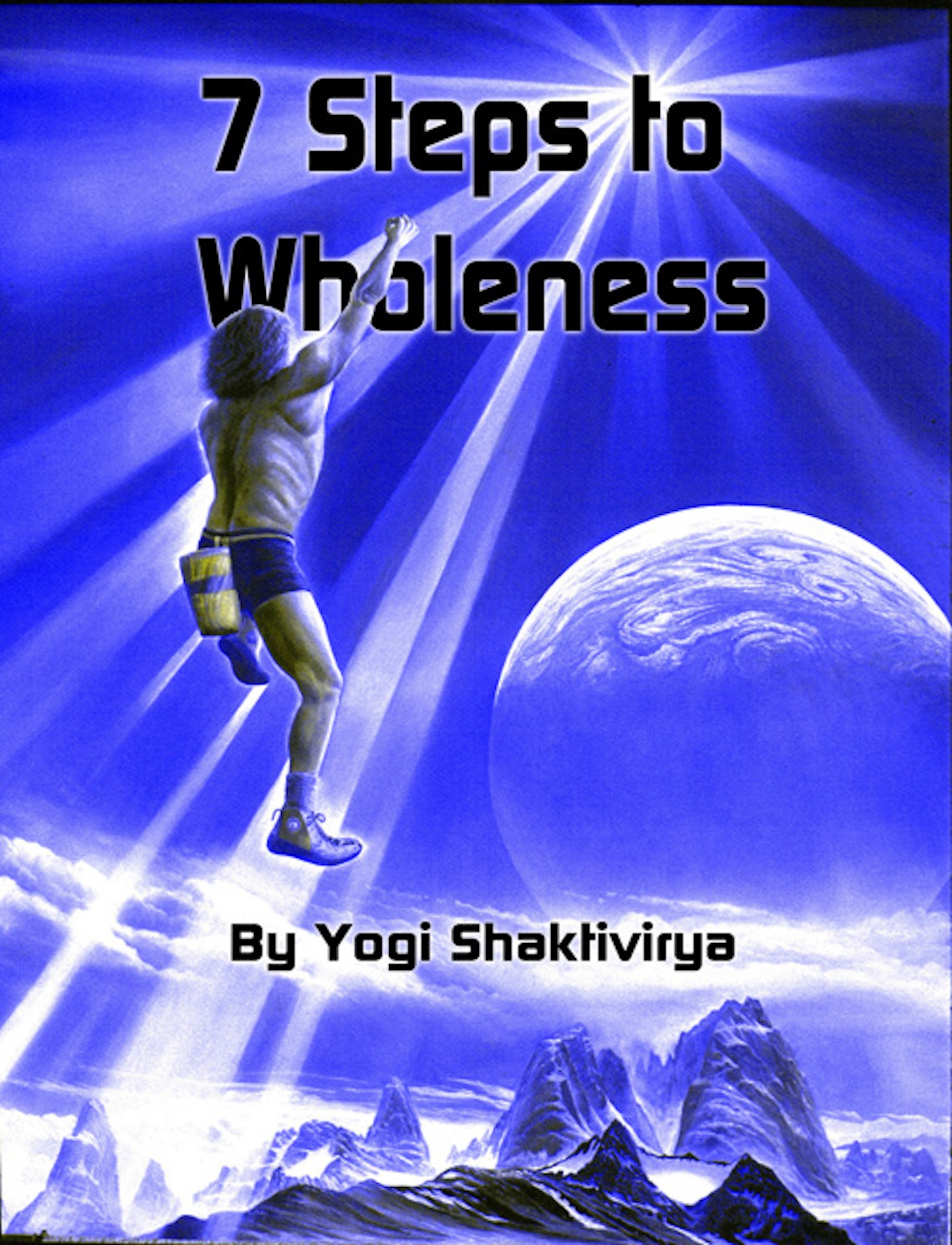 ---
WHY NOT LIVE AN ENTIRE LIFESTYLE OF BLISSFUL TRANSMUTATION AND WHOLENESS?
I discovered a perfected, life-changing, utterly unique, Palaeolithic diet regimen and lifestyle that goes way beyond conventional practice. If it is carefully understood and followed, this wholesome lifestyle can help you enjoy unprecedented levels of health, healing and well-being at every moment. I stumbled across a diet and way of life so pure and so effective at physical, mental and spiritual rejuvenation, it gives me tremendous bliss and tremendous satisfaction in every aspect of my life. The words of this sacred book will guide you up toward ecstatic levels of health and well-being far beyond conventional diet wisdom that not even a single physician, dietitian, or spiritual guru even knows about, or at least not yet.
There is so much to learn however. I will describe all the phases, stages and difficulties to avoid while attempting to reach such high levels of perfected eating for the lasting enjoyment of wholeness that you would never, ever want to return to the conventional ways of eating again. One must first learn, understand and overcome many of the hazardous food and drug addictions plaguing our society and gradually replace all one's deleterious habits and toxic food substances with only wholesome complete proteins, organic fruits, fats, fibers, vegetables and super-foods mostly free of cell-damaging gluten, lectins and other miscreant substances. Organic, raw fruits, minerals, vitamins, essential fatty acids, herbs, fungi, pollens, and vegetables are indeed the greatest healers of all time. Why not base a diet entirely on them?
It should be obvious that nature only intended humans to eat 100% whole, unprocessed food. But our usual western way of life has gone the opposite direction. Most commercially available food contain inflammatory, unhealthy and toxic substances such a far too much sugar, carbs, GMO's, deadly vegetable oils, casein, and gluten, resulting in the eventual development of all manner of chronic degenerative diseases such as depression, anxiety, fatigue, diabetes, arthritis, heart failure and cancer. Multiple diseases of all kinds and years of incredible suffering can be avoided by avoiding junk food, snacks, carbs and sugars while consuming fewer, but much more nutritionally complete, organic, high fat and high fiber meals.
One may think that after eliminating all manner of unhealthy milk products and high carbohydrate foods such as most of the desserts, dairy, whole grain and potato products out there, there would be none or far too few foods left to choose from. This assumption is far from true as there are countless varieties of super-foods, herbs, fruits and vegetables to choose from, some of which contain complete protein and are fully nourishing for the body, especially if you include organic, pasture-raised eggs, algae, and edible fungi along with the vast variety of organic fruits, herbs and vegetables now being grown throughout the world. Learn which vegetables can be used to directly replace all toxic high-gluten whole grains and enjoy the amazing health benefits of living on a fully satisfying, ketogenic, whole foods diet that includes wide variety of tantalizing and delicious superfoods such as spirulina, chlorella, raw cacao (chocolate), bee pollen, pine pollen, avocado, sardines, salmon, pasture-raised eggs, and whole raw ground oat bran, nuts and seed.
Just as vital as making sure only the correct food goes into your mouth, you also need to stop snacking on carbs and instead get into the extremely healthy habit of drinking loads of often mineralized and/or alkalized or distilled water throughout the whole day between full, whole, nutritionally complete meals that are so utterly complete and fulfilling, you desire to eat far less often, resulting in much greater health, healing, and connection with Spirit. It is possible to go on as long as one, full, complete meal every other day for months at a time, saving you massive amounts of time in the kitchen while reducing your grocery and food supplement bills by half! A very select few yogis and mystics can ever seem to go full breatharian, yet one can at least go part of the way using the intermittent fasting lifestyle I am carefully describing in this book step-by-step.
Once you have mastered your intermittent fasting diet, one also needs to understand why it's so vital to master ones sexual energy! Learn how to stop losing VITAL sexual fluids and transmute it using at least seven controversial tools of transmutation to help master your relationship with vital, subtle energy. Learn how to use that energy, correct eating, plenty of mineral water and herbs to blissfully transmute the sexual energy into wholeness, which would uplift you into an even higher state of fulfillment and well-being far more valuable than anything you ever experienced before.
You will learn how this diet and lifestyle of wholeness can lead you toward living more and more on the prana from nature rather than calories from solid foods. You will find that you will feel gradually less hungry and more blissfully energetic, opening up new avenues of inner experience through ecstatic dreams and deep meditation into the realms of samadhi, astral travel and the afterlife. Because the mind is also prone to worry and destructive thoughts, feelings, etc., this book will discus why it is so vital that only the most constructive and helpful thoughts of prosperity and goodness to enter your sacred heart, mind and spirit. You will find out that there is actually a wonderful life after death and that God (unconditional love and everlasting joy) can be realized and discovered as your true nature within your self through deep meditation and samadhi.
The vital "Seven Steps to Wholeness" include:
Step 1 – Find the Right Foods and Eliminate All the Junk; Step 2 – Start Fasting on Alkalized Mineral Water Between Meals; Step 3 – Learn the Importance of Full-Spectrum Supplements; Step 4 – Become Aware of Vital Pranic Energy Nourishment; Step 5 – Conserve and Transmute Your Sexual Desires into Bliss; Step 6 – Align with Your True Nature and Know You Are Eternal; Step 7 – Meditation, Samadhi, Astral and Cosmic Consciousness
My 10th Edition of "Seven Steps to Wholeness" is Now Available on Kindle
GO HERE TO PURCHASE EBOOK: Seven Steps to Wholeness
Please go here for more fascinating information regarding this most amazing way to great joy, bliss, divine love and wholeness!
---
THANKS FOR YOUR INTEREST IN MY E-BOOK!
You can e-mail me HERE
for any questions before and after purchasing!