Stone Age Diet for Teeth How to Save Your Teeth Can Diet Heal Serious Caries?
Healing Dental Caries (most up-to-date info here) Tooth Remineralization (original)
The following ten steps may not only save one's teeth and gums, but also one's life. Why? Because many underlying causes of disease are affected as well.
1 – Save your teeth with raw greens: There might be other options besides the "Factor X" butter oil to help maintain healthy teeth and heal dental problems. My theory is that if "Factor X" comes only from those cows lucky enough to be grazing in green grasses all day long, then why not simply add more greens to one's diet? It has been assumed by raw foodists for a long time that raw greens (high in vitamin K, chlorophyll and magnesium) such as lettuce, wheat grass juice, and chlorella can rebuild damaged teeth. There are also plenty of chlorophyll rich powders and supplements available in every health food store that might be of some benefit to tooth enamel.
2 – Avoid sodas, colas, beer and other acidic drinks: Of course avoid all beverages such as sodas, colas, beer, coffee, alcoholic/sugary beverages, and "foods" such as sweets, dried fruit, refined carbohydrates, cakes, cookies, and all other such nutritional catastrophes widely and sadly mistaken for nourishment or food. If one has to have something, it would be far better to enjoy a refreshing non-sweetened herbal tea such as green tea. Avoid the modern American diet (MAD) as much as possible!
The common American habit of eating pizzas, hamburgers, and chips, while drinking beer, colas and pasteurized milk is spiritually, morally and physically disastrous. Instead please follow the nutritional guidelines discussed on this page and on other parts of this website here and here. Please also be aware that even the most healthy food and substances such as citrus fruit, lemons, lemon juice, sauerkraut, apple cider vinegar, acidophilus (essential for healthy digestion), vit. C crystals, and kombucha (recommended on other parts of my website) contain concentrated acidic substances that can remove tooth enamel if too much is consumed, too often.
Never have snacks containing these substances, and never snack anyway, period. Have the kombucha, sauerkraut, etc. only as a small, but essential part of a main meal for flavor and better health, which should only be of benefit when part of a complete meal.
3 – Live mainly on a raw food, alkaline diet: Live mainly on a raw organic diet of fresh alkaline forming fruits, vegetables and greens high in chlorophyll (spring greens, lettuce, wheat grass juice, kale, collards, etc.) in the diet as well. It would make a lot of sense to learn all one can about how to identify and remove most acid-forming food and foods high in mineral-robbing phytates from one's diet and learn how to live on a more alkaline-forming (antioxidant rich) diet. Go here for more information on how to make one's entire diet more alkaline. One does not need to remove all acidic food from one's diet, as some are essential in small amounts. One needs to however be able to distinguish which are which so one can always benefit mainly from an alkaline forming diet which profoundly affects every aspect of the body, not just bones, teeth, saliva, and gums.
4 – Supplement with extra calcium and all other minerals, A, D, E, K, antioxidants, etc: Supplementing the diet with coral calcium, one teaspoon of dolomite per 1.5 liters of ionized water (also add to juice, and make sure to have at least four grams calcium, two grams magnesium per day which is provided by 6 grams dolomite), liquid or granular lecithin(contains phosphorous in the form of phospholipids), raw greens (high in magnesium and vitamin K), kelp, a liquid colloidal mineral formula containing all 74 macro and trace minerals, and vitamin antioxidants such as vitamin A, C, bioflavonoids, vitamin D, E, the herb turmeric, circulation enhancing herbs such as cayenne and ginger, and especially large quantities of CQ10 and green tea will help maintain heathy teeth and protect the gums.
Large amounts (more than 300 mg. a day) of the CQ10 might even help reverse gum loss. Gum disease can increase the presence of CRP (C-reactive protein) in the blood which is known to increase blood clotting, heart attacks and strokes. So for one's health, well being and longevity, one needs to have as little to do with gum disease as possible.

Dr. Joel Wallach explains why all minerals and trace elements are essential and how their almost universal absence from everyone's diet is causing massive health, bone and dental problems while boosting health care costs hundreds of times!
5 – Use toothpastes containing only simple, healthy ingredients: After every meal, brush and soak teeth in a toothpaste containing CQ10, grapefruit seed extract, sodium bicarbonate (baking soda), green tea, and calcium powder. Periobrite by Nature's Answer (www.naturesanswer.com) contains most of the above ingredients. This one and similar brands of toothpaste should be available in any health food store. However, avoid those products which contain fluoride which is a highly controversial substance. Fluoride only temporarily hardens enamel yet makes it even more susceptible to tooth decay later on and can be very toxic/fatal in large doses. Carefully brushing teeth, gums (and maybe tongue as well) after every meal is extremely important because brushing is essential for oral hygiene, brushing helps keep breath fresh, brushing prevents the build-up of unsightly stains, brushing helps to keep saliva more alkaline. Brushing removes particles of food that would otherwise leave damaging acidic residue on teeth.
6 – Remineralize your teeth with NovaMin (Calcium Sodium Phosphosilicate): Thank God for Calcium Phosphate Tooth Remineralization – For those who are seriously interested in rebuilding damaged and/or painful tooth surfaces there is a product called "Dr. Collins Restore Remineralizing Toothpaste" (contains NO fluoride) helps to rebuild tooth enamel by an ionic release of minerals essential for healthy teeth such as calcium, phosphorous, sodium and silica. NovaMin (Calcium Sodium Phosphosilicate) releases fully active calcium and phosphorus ions when in contact with water. NovaMin provides a higher concentration of the same ions that are naturally found in saliva. After brushing, NovaMin particles adhere to the tooth surface and continues to release ions for hours afterward. This process ensures and enhances the natural self-repair of your tooth surface. It works for me and I am very happy with it. It is a surprisingly inexpensive product for what it claims to do, so no reason not to give it a try. You can order at Amazon.com.
7 – Take a nap to brush your teeth: Lying down on one's back while brushing after every meal allows one to spend much more time and causes one to be much more thorough. While brushing always brush away from the gums (never toward them!) and also try "vibrating" the toothbrush while directly pointing it at the teeth (especially tops of molars) to loosen the tartar that often builds up on teeth and to go deeper into the cracks between molars. After brushing (hopefully for several minutes) remove the toothbrush (which should always be soft, fine bristled, and as new as possible) and if you have some spare time, allow the remineralizing product to soak in the mouth for 15 to 30 minutes. Brush after every meal and not only that, brush thoroughly to remove all acidic forming residue, tartar and ugly looking stains.
8 – Drink alkalizing water ("mineral milk") instead of snacking: In addition to carefully brushing with the above remineralizing toothpaste(s), drinking a mixture of one to three teaspoons of dolomite for every 1.5 liters of alkaline (negatively ionized) water along with one to two tablespoons of a complete, 74 colloidal mineral solution, and 1/4 to 3 teaspoons of cayenne pepper (warning: HOT! but very effective circulation enhancer that can speed up the healing of gums and teeth) between every meal instead of snacking should also be a great help because its high pH (power of hydrogen) balance of alkaline minerals and negatively ionized water temporarily neutralizes the acidic residues and byproducts from acidic foods and acid producing bacteria on teeth which are the main cause of dental caries, while the circulation enhancing power of cayenne pepper seems to reduce and heal gum infection and reduce tooth-ache. The habit of snacking between meals is the worse thing for teeth, especially when it is the usual sugary junk food and phosphoric/citric/carbonic acid sodas so often consumed. However if one "snacked" instead on alkaline water and minerals between meals, one's saliva is bound to become more alkaline. Also one may not tend to feel as hungry because of the neutralizing effect alkaline minerals and ionized water has on hunger.
9 – Keep your saliva alkaline: I would like to mention one most important factor for keeping one's teeth healthy is always having alkaline saliva. The alkalinity of one's saliva can vary greatly from individual to individual and from time to time depending on one's diet, source of drinking water, and genetic background. The continuing existence of teeth in the mouth depends largely on the chemical composition and pH of one's saliva, which if too low (acidic) allows much more tooth decay to occur. Alkaline saliva helps to protect the tooth enamel from acidic residues and is always essential to have if one is serious about keeping one's teeth for life! The best way to make sure one has high pH (alkaline) saliva is to always take some good mineral supplements high in calcium such as the ocean product called coral calcium which contains not only an excellent source of calcium but also all the trace minerals essential for health. Go here and here (the coral calcium and dolomite mentioned above) for some products that should help one produce more alkaline saliva.
10 – Make sure protein intake is high: Ramiel Nagel makes it very clear that the best results happen with high complete (usually of animal origin) protein diet, especially after using protein from raw food animal sources. Vegetarians should at least eat more legumes, sesame seed, sunflower and pumpkin seed, raw eggs and more protein powder. This information may sound contradictory to having an alkaline diet, but not all protein is acid forming, some protein is needed to regulate acid/alkaline balance and is essential in the rebuilding of any injury including damaged teeth.
11 – A serious and permanent commitment is essential: Natural dental health, tooth remineralization, and the successful healing of and prevention of dental caries requires a life-long commitment. Results may vary and never expect overnight miracles. Teeth need months under the right conditions to regenerate and these conditions sometimes can be tricky to maintain even with the information I am presenting here. This information is in NO way whatsoever a substitute for emergency dental and/or medical treatment. It is sincerely hoped that the reader is intelligent enough to assume all responsibility for his or her decisions especially when trying a new approach. One must also commit to this program in its entirety without ever skipping any of it.
For more information, please go to: Tooth Remineralization.

Awesome 3D Sound ~~~~ Meditate Deeper ~~~~ Integrate Your Mind ~~~~ Travel to Distant Places
Affiliate Ad: Expand your consciousness with utterly breathtaking sound and music effects causing a massive inter-neural integration brain synchronization transformation. SYCTUITION WAVE is an awesome and totally unique meditation tool. It is definitely a way to reach your full potential while transporting you into different spaces. Listen to the free, soothing sounds. Experience an effortless flow of miracles. Synctuition is so helpful and so innovative that there is also a great financial opportunity, if you are interested in that. This could be an easy way of connecting to the best "you" ever. Enjoy 1 to 3 free full-length soundtracks just for registering. Go here for more information.

"Seven Steps to Wholeness"
Enjoy Absolutely Amazing Bliss and Joy! Learn Breatharianism! Enjoy Unlimited Energy! Rejuvenate Your Cells!
Nothing like this manual has ever been written before. Learn all about a unique spiritual diet and a way of mineral water fasting for pranic nourishment and transmutation that can really boost your spiritual awareness into realms of awesome bliss and love!
---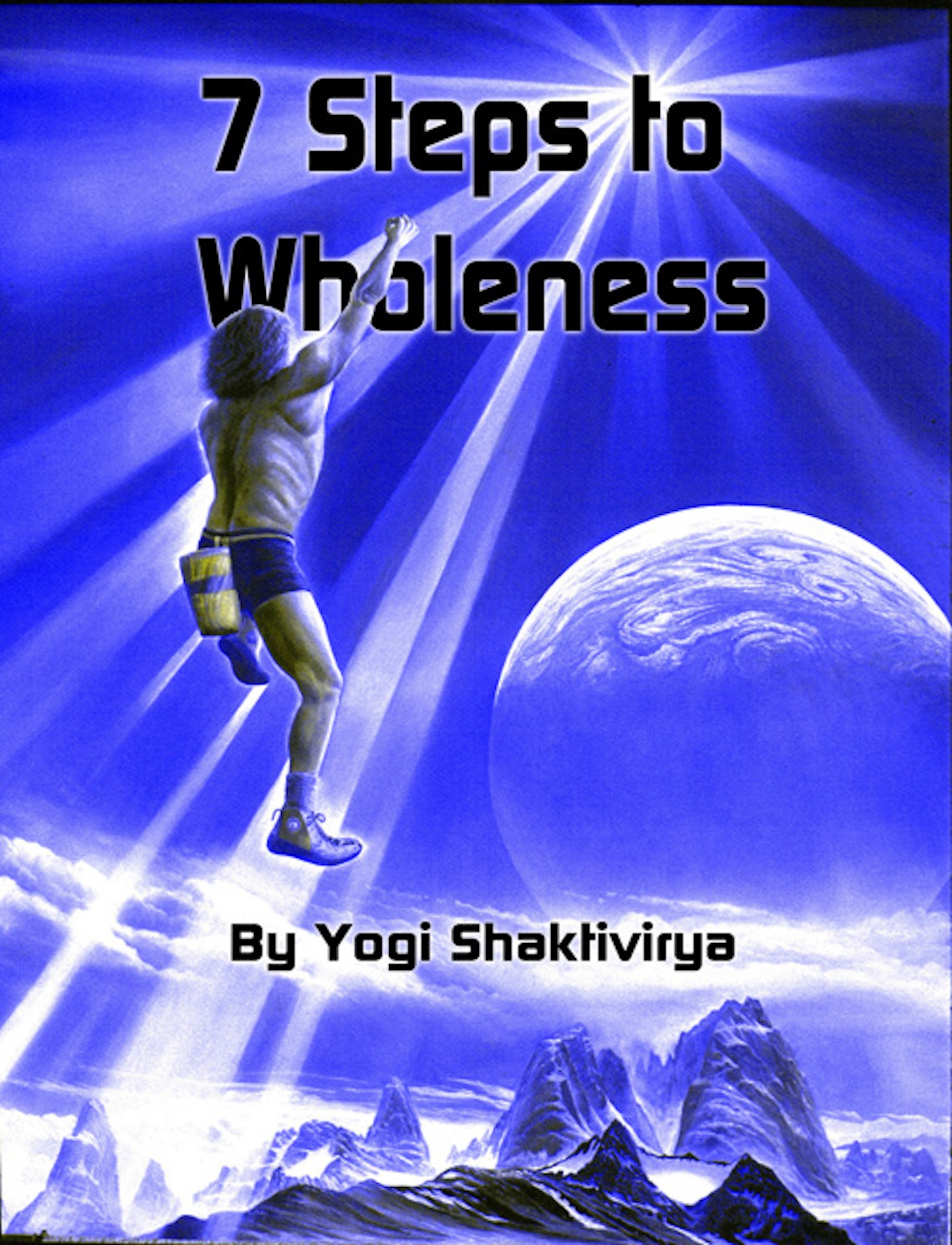 ---
WHY NOT BASE YOUR ENTIRE DIET ONLY ON HEALING RAW FRUITS AND VEGETABLES?
I discovered a perfected, life-changing, utterly unique, oval-vegan diet regimen and lifestyle that goes way beyond conventional practice. If it is carefully understood and followed, this wholesome lifestyle can help you enjoy unprecedented levels of health, healing and well-being at every moment. I stumbled across a diet and way of life so pure and so effective at physical, mental and spiritual rejuvenation, it gives me tremendous bliss and tremendous satisfaction in every aspect of my life. The words of this sacred book will guide you up toward ecstatic levels of health and well-being far beyond conventional diet wisdom that not even a single physician, dietitian, or spiritual guru even knows about, or at least not yet.
There is so much to learn however. I will describe all the phases, stages and difficulties to avoid while attempting to reach such high levels of perfected eating for the lasting enjoyment of wholeness that you would never, ever want to return to the old ways of eating again. One must first learn, understand and overcome many of the hazardous food and drug addictions plaguing our society and gradually replace all one's deleterious habits and toxic substances with only wholesome, organic fruits and vegetables completely free of all cell-damaging gluten, lectins and other miscreant substances. Organic, raw fruits, herbs, and vegetables are indeed the greatest healers of all time. Why not base a diet entirely on them?
Did you know that nature only intended humans to eat 100% raw food? Are you aware that even some of the most natural seed-based foods such as nuts, seed, whole grains, and legumes all contain potentially inflammatory substances such as lectins and gluten resulting in the eventual development of all manner of chronic degenerative diseases such as depression, anxiety, fatigue, diabetes, arthritis, heart failure and cancer? And if any so-called food needs to be cooked to make it palatable and/or less toxic, it should not even be considered as "food" in the first place! Multiple diseases of all kinds and years of incredible suffering can be avoided just by knowing this truth.
One may think that after eliminating these foods there would be none or far too few foods left to choose from. This assumption is far from true as there are countless varieties of super foods, herbs, fruits and vegetables to choose from that contain complete protein and are fully nourishing for the body, especially if you include raw, organic, pasture-raised eggs, algae, and edible fungi along with the vast variety of organic fruits, herbs and vegetables now being grown throughout the world. Learn which vegetables can be used to directly replace all toxic high-gluten whole grains and deadly high-lectin legumes and enjoy the amazing health benefits of living on a completely seed-free, 100% raw food diet supplemented with several tantalizing and delicious superfoods such as chlorella, bee pollen, pine pollen, and pasture raised eggs. Discover which fruit is a perfect replacement for all nuts and seed.
Just as vital as making sure only the correct foods go into your mouth, you also need to allow only the most constructive and helpful thoughts of prosperity and goodness to enter your sacred heart, mind and spirit. Once you have mastered your diet, one also needs to understand and master one's relationship with vital, subtle energy and learn how to use that energy, correct eating, plenty of mineral water and herbs to blissfully transmute the sexual energy which would uplift you into an even higher state of fulfillment and well-being far more valuable than anything you ever experienced before.
You will learn how this diet and lifestyle of wholeness can lead you toward living more and more on the prana from nature rather than calories from solid foods. You will find that you will feel gradually less hungry and more blissfully energetic, opening up new avenues of inner experience through ecstatic dreams and deep meditation into the realms of samadhi, astral travel and the afterlife. You will find out that there is actually a wonderful life after death and that God (unconditional love and everlasting joy) can be realized and discovered as your true nature within your self.
The vital "Seven Steps to Wholeness" include:
Step 1 – Remove all Seeds and Add Plenty of Water Between Meals; Step 2 – Remove all Dairy and Add Living Acidophilus Liquids; Step 3 – Remove All Cooked Foods and Add Full-Spectrum Formulas; Step 4 – Become Aware of Vital Pranic Energy Nourishment; Step 5 – Conserve and Transmute Your Sexual Desires into Bliss; Step 6 – Align with Your True Nature and Know You Are Eternal; Step 7 – Meditation, Samadhi, Astral and Cosmic Consciousness
My 9th Edition of "Seven Steps to Wholeness" is Now Available on Kindle
GO HERE TO PURCHASE EBOOK: Seven Steps to Wholeness
Please go here for more fascinating information regarding this most amazing way to great joy, bliss, divine love and wholeness!
---
THANKS FOR YOUR INTEREST IN MY E-BOOK!
You can e-mail me at shaktivirya@scienceofwholeness.com
for any questions before and after purchasing!