Lester Levenson's Story of Suffering and Inner Awakening
Lester Levenson Finds the Answer - Part 1 (Reprinted from the Abundance Course Website.)

"You're sorry? Well, so am I! You saved my life ... for what? So that I can be an invalid for the rest of it?"
Lester Levenson & Larry Crane Present Release Technique
Have, Be, and Do Whatever You Will or Desire.

A Modern American Master Tells of Going From His Deathbed to His Finding the Answers to Health, Happiness and Prosperity, and How You Can Do It Too.

At the end of two weeks, Dr. Schultz arrived for his regular morning visit, and after examining his patient, pulled up a chair and sat down.

"I'm discharging you today. Your condition is stable, and there's no reason to keep you here any longer. Now that doesn't mean you're well. Far from it. You need an indefinite period of convalescence as well as checkups at regular intervals. But you don't need to be in the hospital any longer. You can continue with bed rest and medication at home."

The doctor went on to outline his at-home program of rest, medication, and regular office visits; his diet; social activities (none); even his sex life (also none). Lester was surprised, but determined to follow doctor's orders.
---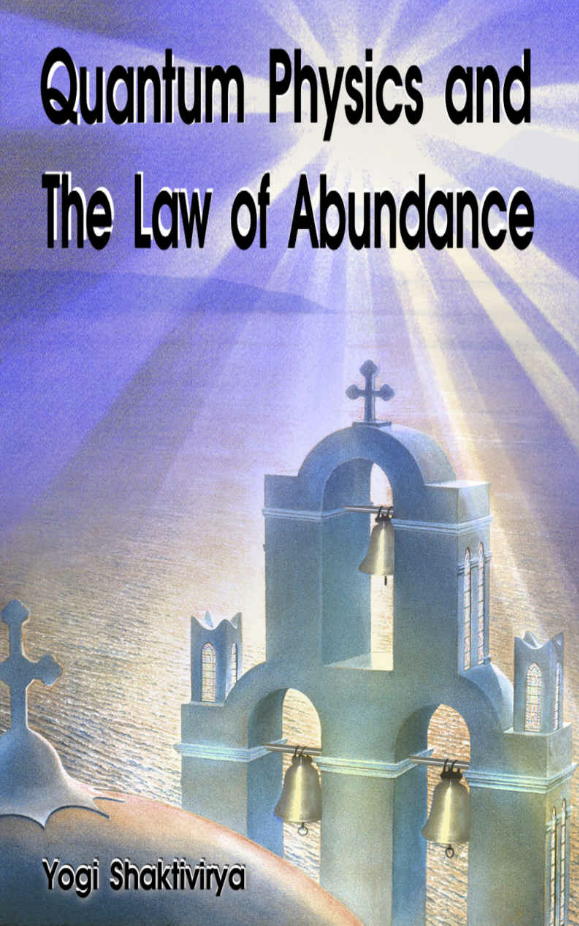 (Ad) Quantum Physics & The Law of Abundance



There is a law of abundance (or attraction) that can be used to gradually bring wonderful changes into your existence! I have known deep in my heart these beautiful and inspiring truths all my life. If you hate your life, you need to refine, uplift, and purify your emotions, lifestyle, mental states and consciousness. Mastering the law of abundance can be achieved by becoming free of all addictions and attachments. Simply by eating only the healthiest and spiritually uplifting foods, you are also dramatically improving your state of being. Transforming not only your thoughts but your diet as well is an essential part of the whole process toward a greater inner fulfillment that may gradually transform circumstances.



---
"How long will this go on, Doc?" he asked. "How long do I have to take it easy like this? I realize you can't tell me exactly, but can you give me some idea?"  He watched the doctor carefully as he waited for an answer. It seemed like a long time before Dr. Schultz spoke.

"How old are you, son?"

That wasn't what he expected. He wondered what was coming next. There was something in the doctor's manner he didn't like. "Forty-two," he answered and waited.

Dr. Schultz looked out the window, his face impassive as he sat lost in thought.  After a long moment, during which neither man moved, the doctor nodded his head once, a sharp decisive movement which frightened Lester, and spoke abruptly and with finality.

"From now on, I'm afraid."

"What do you mean, from now on?" A very sick feeling was rising from his gut, up into his stomach.

"I mean that you cannot expect to live a normal life from here on." He went on quickly when he saw Lester's shocked look. "You've just had a very serious coronary; you're lucky to be alive at all. Anyone else would have been dead by now with the severity of this attack."  The doctor paused, then cleared his throat, "I realize how difficult it must be for you to hear this, but I assure you it isn't pleasant for me either."  He got up abruptly and walked to the window, his back to Lester. "I wish there were something else I could say; I wish I could tell you that in a few months you'd be back to normal and could pick up your life where you left off," he paused, turning to face Lester quietly, "but I can't. In all conscience, I can't tell you that and I'm sorry."

Lester was angry now. "You're sorry? Well, so am I! You saved my life ... for what? So that I can be an invalid for the rest of it? What the hell kind of life are you giving me back anyway?"

Once started, he couldn't stop. He raved on and on. All his frustration, rage and anger poured out until the sick feeling in the pit of his stomach finally rose to his throat and he began to cough and choke. The doctor held a basin for him while he gagged and heaved and finally fell back exhausted onto the pillows, his hand shaking as he reached up to wipe his mouth.

The doctor was shaking too as he carried the soiled basin to the bathroom. He carefully placed it on the floor, then hunched over the sink, one hand on each side of it supporting his weight, his forehead touching the cold mirror of the medicine chest on the wall. In spite of all his years of practice, these situations still affected him. He thought of home and wished he were there now, his day over, relaxing before dinner with a drink or two. With a deep sigh, he pulled himself erect and walked back into the room.

"I'll sign the discharge papers today. but you can stay on if you want," he said quietly "If you need more time to make your arrangements, I'll tell the nurse it's okay." He didn't know what else to say.

Lester answered, "No, that's all right, I'll leave today, this afternoon. There doesn't seem to be any point in prolonging it"

"All right, whatever you decide is all right. But remember that you can change your mind and stay a bit longer if you want." He stood in silence for a moment, while he closely examined Lester's ashen face. "Please be sure to take it easy when you get home. I can't overemphasize the importance of that. You shouldn't climb any stairs at all. And do you have shoes without laces; you know, loafers?"

"Loafers? No, why?"

"You might want to have someone buy you a pair. It's better if you don't have to bend over to tie your shoes. It puts an additional strain on your heart when you get into that position."

The idea struck Lester as ridiculous but all he said was "Okay, whatever you say." He'd always hated loafers but it didn't matter now. Then as he watched the doctor walk toward the door, a question occurred to him. "Doc," he asked, "I'm not going to die, am I? I mean, I might have to kind of take it easy from here on, but I'm not going to die, right?"

Dr. Schultz stopped. "I don't know," he answered, then turned to face Lester. "I wish I could give you a positive answer, but I can't. The truth is that I simply don't know. You've had a massive heart attack and you could live for another year or two, or you could go tomorrow. I just don't know."

"Thanks for being honest with me, Doc. I'll be seeing you."
God radiates to all who are tuned in, powerful, ever changing rays of peace, love, joy and prosperity. Although not shown here, each of the colors in a rainbow can symbolize the various aspects of God's abundant blessings upon you: Blue to Violet=PEACE Pink to Red=LOVE Gold to Yellow=JOY Emerald to BlueGreen=PROSPERITY
Lester Goes Home

That afternoon, he went home to his penthouse as though to a tomb. "It is a tomb," he thought, "and I'm a dead man. I guess I'll just have to get used to it." His sisters wanted to help and offered to take turns staying with him, to take care of him, but he sent them away. He just wanted to be by himself.

He went to bed and mostly slept for three days, waking up only occasionally to eat, or take his medicines, or use the bathroom. Then he'd crawl, like a wounded animal, back to his hole.

On the fourth day something changed. After his midday meal he was sitting in a chair, looking out the window at Central Park. There was snow; the trees were sparkling; the park looked like a fairyland. He was thinking of how beautiful it was and then realized that he wasn't enjoying it at all. He could not respond, even to beauty. He was a virtual invalid, with no hope of ever getting any better. At best, he could look forward to years of sitting in this apartment, nursing a frail corpse that hadn't the good sense to lie down and get it over with. That thought made him so furious he got up from his chair with the greatest surge of energy he'd had since his attack, went straight to the medicine chest in the bathroom and counted his pills. He found a good supply of the newer medications; sedatives and heart pills.

There were also morphine tablets a doctor had prescribed some years before for the pain of kidney stones. There were certainly enough left in the bottle to take him off this planet if he chose to go. And morphine would be such a nice way to go; you just floated off on a warm, cozy cloud, everything rosy. It was certainly better than waiting for another heart attack.

Okay. Now he had a choice. For the first time since his illness, he felt he had some control over what happened to him. He considered what to do. Should he take the pills now and get it over with? No, not right now he decided; he could always take them when and if things got too bad.

He went back to his chair and began looking the situation over, speaking aloud to himself, "You're still breathing. No matter what those doctors or anyone else says about the prognosis, you're still breathing, and that's what counts. Maybe there's some hope after all."

"Okay, where do I start?" That question brought on the sinking feeling again, and it occurred to him that perhaps he should go ahead and take the pills at once. At least then he'd be out of his misery and could stop fighting. And what had he been fighting for all his life anyway? Just a little happiness, that was all; and he hadn't found it, not ever, not in any way that lasted more than a few minutes or hours at a time. Momentary... that's what life was... momentary... impermanent... always changing... you'd no sooner think you had it made, had everything nailed down and could relax, than the next thing would happen and there you were again ... right back where you'd started ... clutching, clutching, clutching for something you couldn't hold even if you got it. What the hell was life all about anyway?

What was it all about? What was he doing here on this planet? It didn't make any sense to him that he should be born; go through all he had gone through in his life; never really get anywhere that really mattered; and end up with nothing, absolutely nothing except a dying body and eventually even that turns to dust. All his possessions and accomplishments felt meaningless and empty.  "Like dust," he thought.

"Ashes to ashes and dust to dust...

If the war doesn't get you, the taxes must."

He had to laugh at the truth in that silly rhyme. Life seemed so stupid. But as he thought about taking the pills, he realized that he couldn't give up yet. There was something stirring in the back of his mind ... an elusive thought that there might be an answer if only he knew where to look. Well, he had nothing but time, he figured, and even though his body was half dead, he still had his mind; he could still think.

"Should I try?" he wondered aloud.

For a moment, he wavered, then decided with a shrug, "Oh, what the hell ... I got nothing to lose. If it doesn't work, I can always take the pills." And he knew he would if it came to that. There was no doubt in his mind.

That being settled, he didn't have to think about it again. His mind felt clearer than it had in a long time, and for the first time since his illness, he felt truly hungry. He went to the kitchen and fixed himself a real meal. Still very weak, he took his time and didn't try to rush. As he ate, his mind was busy exploring new thoughts, questions, ideas of where to look for his answer. The new project was exciting and he felt himself coming alive again.

Refreshed and strengthened by the meal, he went back to his chair by the window. "Where to begin?" he wondered, "Well, first, what are the questions?" 

What is life? What is it all about? Is there a reason for my being here in this world, and if so, what is it?"

"What is life? What is it that I've been looking for?"

"Just a little happiness, that's all," he answered himself.

"Okay, then, what is happiness? How do you get it? Where do you find it?"

"What is life? What is this world all about and what is my relationship to it?"

"How did I get into this mess I'm in?"

"Is there a way out of this mess?" He already knew the answer to that one. Other than dying, there is no way out, but he thought if he could only get the answers, at least he'd know the reason for his life. He might make some sense out of it all, and that would be something. It would have to do.

First, he looked in the dictionary for definitions of happiness and life. They didn't tell him anything he didn't already know. Next, he went to his library of books collected over the years. There was Freud; could there be anything useful in that? No, he'd tried Freudian analysis for years, and it hadn't helped. He'd also read every book Freud had written that had been translated into English and hadn't found the answers. No, Freud had no answers for him. He went on to others; Watson's Behaviorism, Jung and Adler, nothing for him in those, either.

Then there were the philosophers. He began taking books from the shelves, putting them in a pile. He'd read them all cover to cover more than once, but maybe he'd missed something. After all, he thought, he hadn't then had specific questions.

Taking books to his chair by the window, he began to read. He skimmed through one after the other, stopping to read paragraphs or pages here and there.

His head began to feel clogged with information, and his thoughts were spinning. More and more impatient, he went back to the shelves for other books, books on medicine, physics, engineering. He had books on everything and he looked through them all over the next two days. The room was a mess, books piled everywhere, some lying open on the floor where he had thrown them in his frustration. The only ones left on the shelves were a joke book and some biographies, which had been given to him as gifts.

Where to look next? "You were always a smart boy" he told himself. "Didn't you win a full scholarship to Rutgers by competitive exams when there were only three being given? Even though you were a Jew, they couldn't hold that back from you. You won it!

"And in school, weren't you always on the honor roll? And haven't you read tons of stuff on man, from engineering and physics to psychiatry and philosophy and medicine?

"Well, if you're so smart, big shot, what did all that study and knowledge and reading get you? Migraines, kidney stones, ulcers, appendicitis, pain, misery, unhappiness, and finally a coronary which should have finished you off and didn't. What more do you need before you come to your senses?

"For a smart boy Lester, you are stupid, stupid, stupid! All that knowledge has availed you nothing. And here you are looking for more, wanting more books written by someone else who hasn't found the answers either."

"That's that!" he told himself. "I'm finished with all that crap."

With that decision, he felt a lifetime burden lift from his shoulders. Suddenly he felt light, almost giddy. He realized he had actually been looking for the same answers all his life, but now he knew, without a doubt, that if they were to be found in any of the conventional places, he would have already found them. He would have to look somewhere else. And he thought he knew where.

He would put all that useless knowledge aside, disregard everything he'd learned, go back to the lab and start from scratch. The problems were within him, he reasoned. It was his body, his mind, his emotions. The answers must be within him, too. That was his lab and that's where he would look. It felt good. He went to his chair and began.
Eliminate Poverty Consciousness
Introducing the Inspiring Works of Joseph Murphy . . . (Afilliate Ad)





Answers Begin to Emerge

For a month he sat, relentlessly questioning, probing. At first, he tried to obey doctor's orders and spend a good part of each day resting in bed but he couldn't stick with it. His mind was too active, and this new research was the most exciting thing he had ever done. He worked at it as intensely as he had worked on other projects, by trial and experience. He had two-way conversations with himself, first posing a question, then exploring each possible answer until he could either validate it or eliminate it. By doing this, he made his first big breakthrough; got the first real answer.

It was about a month after he'd begun his self-search, and he was looking into the question of happiness. He'd already eliminated some answers and once again asked himself, "What is happiness?"

The answer that came this time was, "Happiness is when you're being loved." That seemed simple enough.

He went on. "Okay, would you say you are happy now? Do you feel happy?"

The answer was no.

"Okay," was the conclusion, "then that must mean you are not loved!"

"Well, that's not exactly true," came the rebuttal. "Your family loves you."

That made him stop and think. He saw again their concerned faces when he'd been so sick in the hospital, remembered the pleasure in their eyes when he'd returned home after each lengthy sojourn elsewhere, heard his sister Doris' sweet voice on the telephone, "How are you, honey?"  Oh, yes, he was loved. There was no mistake about that.

And there were women, too. He could think of more than one who would marry him in a minute if he asked. He knew it was so because they had asked him, and had broken off the relationship when he refused.

There were men who loved him, too, as a friend. These were men he had known all his life, real friends who had stood by him through all kinds of difficulties, who still called regularly just to say hello and see how he was doing, who enjoyed spending time with him. They loved him.

It came as a shock that with all that love, he still wasn't happy. It became obvious that being loved was not the answer to happiness. He threw it out and tried a new approach.

"Maybe happiness lies in accomplishments," he thought. He remembered when he'd won the Rutgers scholarship, when Kelivinator had upped his salary, when he got his first apartment, when he opened the first Hitching Post, when he made the coup in Canadian lumber. Proud of himself, yes. But happy? No, not what he would call happy.

"Well, then," he asked himself, "have I ever been happy and if so, when?"

The first part was easy; of course, he'd been happy sometimes. But when, specifically? He began to look at it... there were the summer times years ago when he was camping out with the fellows. He had been happy then. Oh, not every minute, of course, so what were the specific moments? The first thing that flashed into his mind was a picture of him helping his friend, Sy, put up his tent one summer. Sy had arrived late in the afternoon and one of his tent ropes had broken. Lester had helped him, both of them laughing, pleased with their friendship, feeling good about themselves and each other. He had been happy then.  He chuckled at the memory. He felt good even now, thinking about it.

"What were some other times?" he asked, and the next thing he remembered was how he felt when his friend, Milton, had eloped in college. No one was supposed to know about it, but Milton had told his best friend, Lester. He had been very happy then; was it because he felt special that Milton had told him a secret?  Upon reflection he saw that it wasn't that. No, it was the expression on Milton's face, talking about his beautiful new bride and how much he loved her; they just didn't want to wait until after college. Lester had felt a twinge of envy for a moment, but then had looked closely at his friend's face beaming with love and he knew he had definitely been happy for Milton. He felt the happiness well up in him even now, after all the years, as he sat with eyes closed, reviewing the scene in his mind. Yes, he had been happy then.

As he continued to review the past, happy times came faster and faster. He remembered June and driving to pick her up for a date, his heart singing with love, impatient to see her. He had been happy then.

And there was Nettie. Oh, God, he hadn't thought about her for such a long time. He really didn't want to now, there was so much pain attached to it, but there it was. He'd been running away from that pain all his life it seemed, and he was tired, tired of running. It was the end of the line and he simply couldn't run any longer. So he forced himself to look and to question.

Oh, yes, he had been happy with Nettie. Memories flashed through his mind, moments when he had held her in his arms so tenderly wanting to take her right inside himself. Moments at parties, when he would unexpectedly catch her eye across a room and be flooded with love. Remembering her smile, the sun glinting on her hair, the serious look on her face as they sat studying together, the faint flowery smell of her, the sound of her laughter, her voice soft in the night, "I love you, Lester."

He sat back and let the pictures flood him, wash over him, let it all flow, let the long-held pain flow. His heart ached until his carefully erected, protected dam broke and for the first time, he cried over his lost love, his Nettie, his darling. Grief seemed to come from some bottomless pit of pain and loneliness. It went on for what seemed like hours and when it was over, he felt drained and weak. When he could, he crept from the chair to his bed and slept like a dead man.
---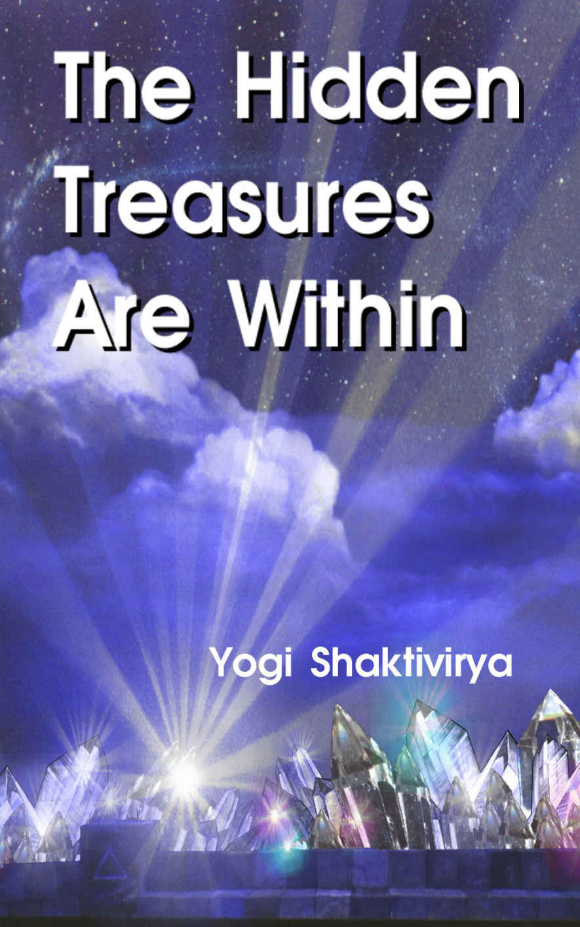 (Ad) The Hidden Treasures Are Within



This book is a compilation of fifteen inspirational articles regarding wholeness, meditating, how to choose your spiritual path, and how vital the hidden treasures of wholeness are for living a more full and complete life. Although this book includes some passages from the Bible and meditation-oriented information from the "Path of Sant Mat," this book is purely a spiritual text not meant to promote any religion. Most of this book will be about why wholeness is so essential and how to achieve it. I believe it is of utmost importance to make one's search for wholeness one's highest priority in what would otherwise be a temporary and fickle existence. To realize Spirit in one's life is vital for adding meaning to what would otherwise be a meaningless and materialistic existence.


---
What Is Happiness?

In the morning, he woke very early feeling rested and refreshed. His first thought was, "Well, then, what is happiness?" He laughed at his tenacity as he rolled out of bed and into the shower. Preparing breakfast, his thoughts continued to explore the question which dominated his mind.

Well, then, what is happiness?  What is the common denominator in all these moments? There was Sy, there was Milton, then June, and his Nettie... what was the common denominator? Somehow he knew it was tied up with love, but he could not, at first, see how. When it finally came, it was so simple and pure and complete an answer that he wondered why he had never seen it before.

"Happiness is when I am loving!"  He realized that in every instance his feeling of love for the other person had been intense and that's where the happiness had come from, from his own feeling of loving.

It was so clear to him now that being loved was not the answer. He could see that even if people loved him, unless he felt love in return, he was not going to be happy. Their loving might make them happy but it would not, could not, make him happy.  It was a new and mind-boggling concept and even though he instinctively knew that it was correct, his old scientific training didn't allow him to accept it without testing. So he looked into his past, remembering those times in his life when he had been loving and happy, and he recognized that at those times, the other person had not necessarily been loving him.

He looked at the other side too, the unhappy times and now that he knew what to look for, it was very obvious that he had not been loving. Oh, he'd thought at the time that he loved them, as with Nettie and June. He loved them, needed them, wanted them. But was that love, he wondered now.  No, it was painful ... he was experiencing pain that they didn't love him. And even though he called it love, he was really wanting to possess them completely, thinking he needed all their love to be happy.

That was the key! He had been experiencing a want or lack of love, expecting the other person to supply the love, waiting for the other person to make him happy. He had to laugh, it seemed so ludicrous. To think that someone else could make him happy seemed like the funniest thing in the world. He knew, better than any one, that no one could ever make him anything. He'd always been very proud and stubborn and self-sufficient, sure that he never needed anyone or anything. "What a joke!" he thought. The truth is that he'd been all the time dying inside for want of love, thinking he had to get it from someone. Tears rolled down his cheeks as he laughed and laughed at the realization that what he'd been looking for all his life was inside him. He had been like the absent-minded professor looking everywhere for his glasses which were on top of his head all the time.

"What a shame," he thought, wiping away the tears. "What a shame that I never saw this before. All that time, all those years wasted ... what a shame"

"But wait a minute!" he thought. "If happiness is when I'm experiencing love for the other one, then that means happiness is a feeling within me.

"And if I felt unloving in the past? Well, I know I can't change the past, but could I possibly correct the feeling now inside myself? Could I change the feeling to love now?" He decided to try it. He looked at his most recent unhappiness, the day he left the hospital.
---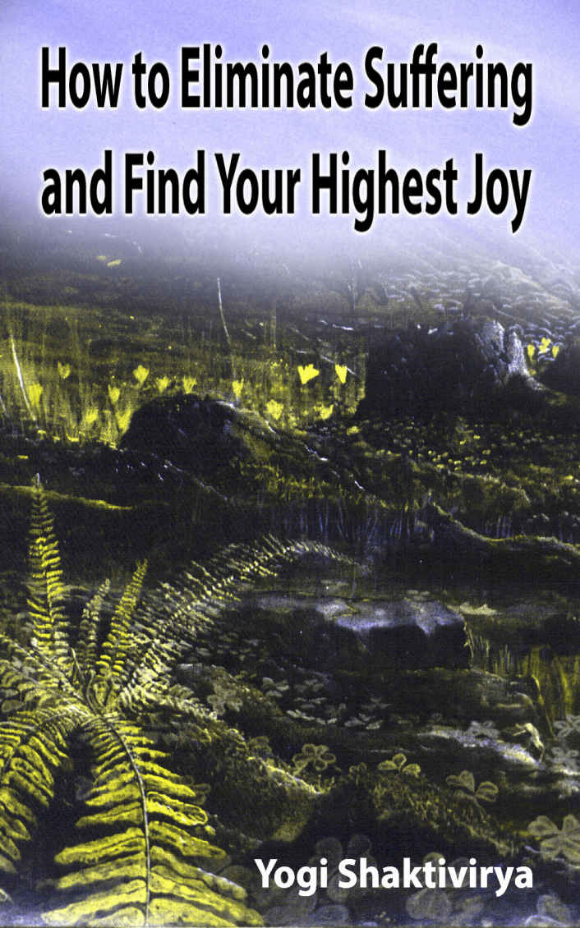 (Ad) Eliminate Suffering



Find Your Highest Joy - Suffering seems to come in as many forms as there are people. It seems that everyone has found their own ingenious way to suffer, and suffering is definitely a most congruent and defining part of humanity. Suffering is what makes, creates or defines the individual, or what makes the person. If there was no suffering, life would be like the sculptor without the chisel, no face could be rendered clearly, nor one's individuality could ever be well-defined! Do not be alarmed that suffering is such a defining part of humanity and such a seemingly impossible thing to avoid. We suffer to learn from our mistakes and improve our self-worth. Suffering is part of a feed-back mechanism to keep us motivated . . .


---
"First," he asked himself, "was I experiencing a lack of love that day?"

"Yes," he answered aloud. "Nobody gave a damn about me, not the nurses, not the orderlies, not even Dr. Schultz. They did not care. As sick as I was, they threw me out, sent me home to die so they wouldn't have to watch one of their failures... well, the hell with them. They can all go to hell." He was shocked at the vehemence in his voice. His body trembled with rage and he felt weak. He really hated the doctor. He could feel it burning in his chest. "Oh, boy" he thought, " this sure isn't love."

"Well, can I change it?" he asked. "Is it possible to turn it into love for the doctor?"

"Hell, no," he thought, "why should I? What did he ever do to deserve any love?"

"That's not the point," he answered himself. "The point is not whether he deserves love. The point is, can you do it? Is it possible to simply change a feeling of hatred into a feeling of love-not for the benefit of the other person but for yourself?"

As the thought crossed his mind, he felt something break loose in his chest. A gentle easing, a sense of dissolving, and the burning sensation was gone. He didn't trust it at first. It seemed too easy so he pictured again the scene with Dr. Schultz in the hospital. He was surprised to find that it brought only a mild feeling of resentment rather than the previous intense burning hatred.  He wondered if he could do it again.

"Let's see," he thought, "what did I just do?... Oh, yes. Can I change this feeling of resentment into a feeling of love?" He chuckled as he felt the resentment dissolve in his chest. Then it was totally gone and he was happy.  He thought of Dr. Schultz again, pictured him in his mind and felt happy, even loving. He saw now, reliving that last meeting, how the doctor had hated to tell him the things he had to say.  He could feel the doctor's pain at having to tell a young man in the prime of his life that his life was over. "Doctor Schultz, you son-of-a-gun," he said, grinning, "I love you."

"Well, it worked on that one," he thought. "If my theory is sound, then it should work on everything."  Eagerly he began trying it on other moments, and the results were consistently the same. Each time that he asked himself if he could change the feeling of hostility or anger or hatred to one of love, the dissolving process took place. Sometimes he had to repeat it over and over until he felt only love for the person. At times, the entire process would take only a minute or two; at other times, it might take him hours of working on a particular person or event before his feelings were only loving, but he would doggedly stay with it until it was completed on each person and each incident.

His entire life came up for review in bits and pieces. One by one, he changed to love all the old hurts and disappointments. He began to feel stronger as the weight of his pain dropped away. He was happier than he had ever been in his entire life, and he kept it going, feeling even more happiness with each new thing corrected.

He stopped going to bed because he had so much energy that he couldn't lie down. When he felt tired, he would doze in his chair and awaken an hour or so later to start in again. There was so much to be corrected in his life that he didn't want to stop until he had looked under every stone and around every corner.


How Far Could He Take This?

To read the rest of Lester's story, please go on to the next page


Learn how you can achieve the health, wealth, happiness and freedom that Lester discovered...

Learn The World-Famous Method for Liberating the Subconscious Mind.

Lester's Release Technique is taught in its entirety in the Abundance Course.




(Afilliate Ad) Download Your Own Free Copy of I Create Millions

Economist and Author Paul Zane Pilzer predicts that ten million new millionaires will be created in the next ten years. Why don't you plan to be one of them? Here's a free gift for you to make it so! This is a full sized book, at 75 pages courtesy of Christopher Westra. Discover the secrets to having the resources you need to live the life you've always dreamed of. Learn 34 practices, attitudes, and programs that the experts use to increase the flow of money. Discover how prosperity and success can become a way of life: go here to download I Create Millions.



(Afilliate Ad) Free Subscription to Enlightened Messages for the Soul

Receive the first Chapter of The Manifesting Manual for free along with a free subcription to Enlightened Messages for three months. Feel more and more inspired about life and at peace with every e-mail. Go here to Subscribe to our free Enlightened Messages for the Soul e-mails and to our Manifesting Manual free gift now. They are inspiring, uplifting, and down right life-changing! For more information, please Go here to read the complete article, The Awesome Power of Intention by Jafree Ozwald. It is all about the science of manifesting, how one's habitual feelings and emotions affect one's vibrational influence which can attract to one's self whatever feelings and thoughts are most intensely sent out. Basically, whatever one puts out into the living universe, that is what one gets back. Project love, and love will eventually have to attract something similar to itself. Continue.
ALL INFORMATION ON THIS WEBSITE IS FOR EDUCATIONAL PURPOSES ONLY. ALL THE MATERIAL PRESENTED HERE IS NOT INTENDED FOR DIAGNOSIS OR TREATMENT OF ANY TYPE OF MEDICAL CONDITION.
Discover Priceless Meaningful Gifts by an Amazing Mystical Jewelry Artist ... (Afilliate Ad)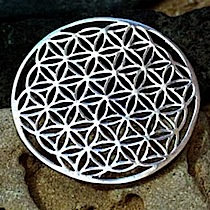 Go here to discover jewelry that symbolizes the idea of unity or wholeness that underlies all nature.





(Ad) Sacred Jewelry for any Occasion

WholeJoy.com is an affiliate of Ka Gold Jewelry. All links and images below go directly to the secure Ka Gold website. If you have any questions, concerns, or need support, please contact webmaster.


---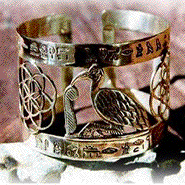 Why does David's authentic sacred jewelry sell so well during any season? People are looking for gifts that will truly show how much they love. Gifts that will stay forever and bring inspiration to the gift's receiver. There are not many gifts that really touch the heart the way David's jewelry does. The combination of beauty, ancient history, meaning and art is compelling. Go here to purchase.


---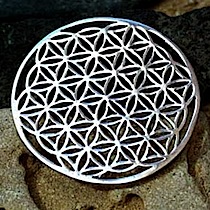 The Flower of Life can be found in all the major religions of the world. In Egypt, whose tradition many people believe is the source of all the monotheistic religions, the "Flower of Life", can be found in the ancient Temple of Abydos. In Israel, you can find it in the ancient synagogues of the Galilee and in Mesada. Go here to learn more.


---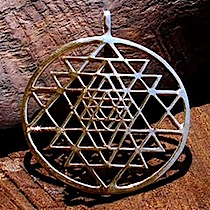 The SriYantra Penadant: The structure of the SriYantra pendant is one that provides abundance, beauty, and balance between male and female and between spiritual and material. Yantra is a mystical hindu concept that describes a structure or diagram used to balance or focus the consciousness... Go here to learn more.


---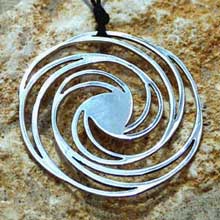 The Golden Spiral pendant generates harmony and tranquility and is a symbol of natural beauty. The Golden spiral structure represents two well known sacred geometry shapes: the... Go here to learn more.


---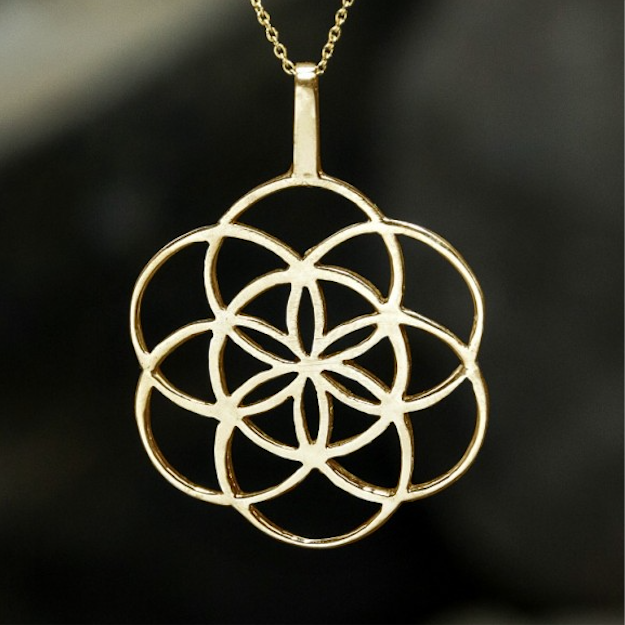 The Seed of Life is a symbol for the days of creation. It is treated as a stage in the process of creation of the flower of life - a geometrical shape that symbolizes the whole universe. Go here to learn more.


---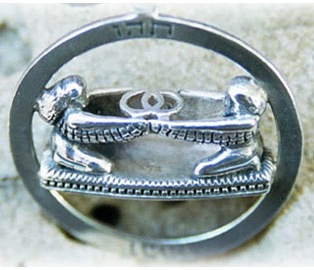 The Vesica Pisces is derived from the intersection of two circles, the Pythagorean "measure of the fish" that symbolizes the mystical intersection of the world of the divine with the world of matter, and correspondingly, the beginning of creation. Go here to learn more.


---

The Tree of Life is one of the most familiar of the Sacred Geometry Symbols. The structure of the Tree of Life is connected to the sacred teachings of the Jewish Kabbalah but can be seen in other traditions as well, such as the ancient Egyptian tradition. Go here to learn more.


---

The Golden Spiral structure represents two well known sacred geometry shapes: the golden mean (phi) spiral and Fibonacci spiral. The Golden mean spiral is the secret proportion of beauty as it exists in nature. Go here to learn more.


---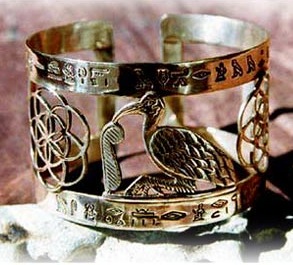 The Emerald Tablet bracelet contains the symbols of the ibis bird and the feather of Ma'at. The Ibis bird symbolizes Thoth, known as the ancient Egyptian god of wisdom and the scriber of the words of the gods. The feather of Ma'at is the symbol of the goddess of justice, truth and harmony. Go here to learn more.


---

The Nautilus pendant is based on the structure of the Nautilus shell. The Nautilus shell is one of the known shapes that represent the golden mean number. The golden mean number is also known as PHI - 1.6180339... The PHI is a number without an arithmetic solution... Go here to learn more.


---

The Christ Consciousness pendant radiates a very high and subtle vibration and posseses excellent healing characteristics. It is called Christ consciousness because it looks like the human consciousness grid... Go here to learn more.


---

The Mobius strip, also called the twisted cylinder, is a one-sided nonorientable surface obtained by cutting a closed band into a single strip, giving one of the two ends thus produced a half twist, and then reattaching the... Go here to learn more.


---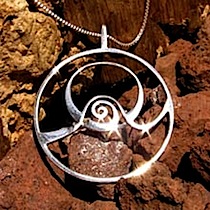 The Shefa symbol was received in direct transmission from Archangel Metatron by Dvora Pearlman. It was received as a teacher and a tool to learn, to use and to connect with the... Go here to learn more.


---

The Merkaba pendant symbolizes the flow of Prana energy (life force energy) in our body. By utilizing the ancient Prana breathing technique, we are able to restore the Prana flow through the pineal gland at the center of our brain. Go here to learn more.


---

The Flower of Life shape contains a secret shape known as the fruit of life. It consists of 13 spheres that hold many mathematical and geometrical laws. These laws represent the whole universe. Giving the flower of life to someone is like giving them the whole universe in... Go here to learn more.


---

The Christ Consciousness pendant is made from a combination of 2 platonic solid shapes - the dodecahedron (12 five sided facets) and the icosahedrons (20 triangles). The structure of the Christ Consciousness pendant creates the third level consciousness grid of the human race, which is an electro magnetic field that surrounds planet earth and... Go here to learn more.


---

The Gordian Knot pendant symbolizes the idea of unity which binds everything into one. The Gordian knot... Go here to learn more.


---

The Ka Bracelet contains elements from the emerald Tablets and the culture of ancient Egypt. A translation of the hieroglyphs engraved on the bracelet is: "Rise up and awaken, you are not dead, your Ka will remain within you for eternity." Go here to learn more.


---

The Merkaba symbol is based on the Prana energy field and the aura field. It is one of the most powerful symbols in the world. The Merkaba also helps in our spiritual growth and the connection to the higher self. Go here to learn more.


---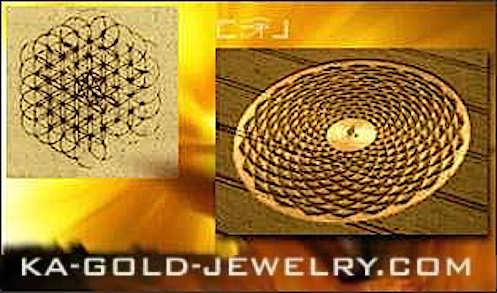 The Flower of Life can be found in all major religions of the world. In Egypt, the source of all the mono-theistic religions, the "Flower of Life" can be found in the ancient Temple of Abydos. Go here to learn more.


---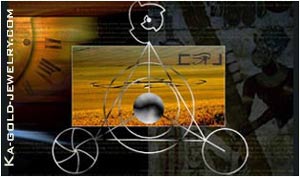 Personal Creation pendant contains the geometrical and mathematical patterns of creation itself as it can be found in nature. The Personal creation shape appeared in the year 1991 in Wessex, England, in a wheat field. Go here to learn more.


---

The Golden Spiral structure represents two well known sacred geometry shapes: the golden mean (phi) spiral and the Fibonacci spiral. It is a based on a crop circle shape known as the "Hackpen Hill Formation" that formed in an English wheat field in 1999. Go here to learn more.


---

The Gordian Knot pendant symbolizes the idea of unity which binds everything into one. The Gordian knot... Go here to learn more.


---

The Abundance Ring Shefa is a word in Hebrew that literally means Abundance. This word, in its highest and most profound meaning, means a tool for creating abundance. It holds powerful kinetic energy, the kind of energy that when coupled with one's intent for the highest goodness and aligned with the Divine will, can move mountains or feed... Go here to learn more.




---
*Disclaimer: This material is NOT intended for individuals under 18 years of age. Every web page does contain various affiliate offers that if purchased could financially benefit the author. All information presented on these pages is NOT meant to be a substitute for professional help, competent medical advice or treatment. -- Learn more about the author and his websites: Science of Wholeness and Whole Joy -- Copyright © Russell Symonds 2023 - Back to Top (Menu)